How the Fed is Rapidly Accelerating Income Disparity
The Fed Has an Interesting Ratio on Household Financial Obligations
Written by Outsider Club
Posted November 11, 2013
---
*Post courtesy of Dr. Housing Bubble:
Current housing policy has been a major windfall for large institutions and investors. Banks enjoyed a continuous stream of good years as rates slowly dragged down and people became serial refinancers. Good way for banks to earn fees courtesy of the Fed's QE maneuvering. However the results have been negative for the large number of working and middle class Americans. Many of you have encountered investors bidding prices up on properties here in your own backyard but this trend is nationwide. In some areas the bidding has been more aggressive (i.e., San Francisco) but overall, the nation has seen a big jump in home values. However new data continues to highlight how this current policy is really benefitting a small group of Americans. While rental vacancy rates reach decade lows, homeownership rates are also reaching multi-decade lows. Not hard to do when a large portion of the market is coming from the investor crowd.
Financial obligations ratio
The Fed has an interesting ratio on household financial obligations. They break this data out between homeowners and also renters: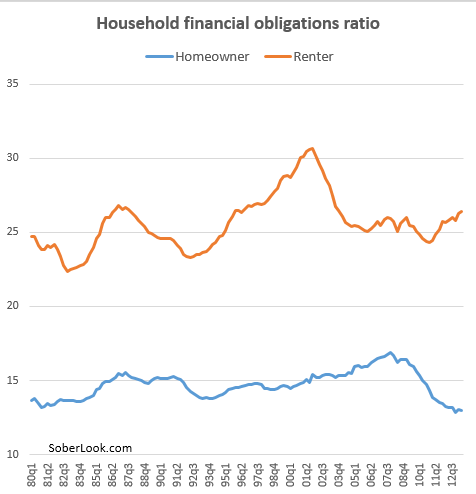 This is an interesting chart. Since the recession ended, financial obligations for renter households have only increased while those of homeowners are now down to generational lows. Low supply and new building moving along at a snail's pace combined with rents increasing. What this means is that for renter households more money is now flowing to housing. The problem is household incomes have been stagnant.
Of course for homeowners current banking policy has allowed many to refinance and lower rates into the abyss. Yet there is a cost. You are seeing it here. There is no free lunch.
Rental vacancy at decade lows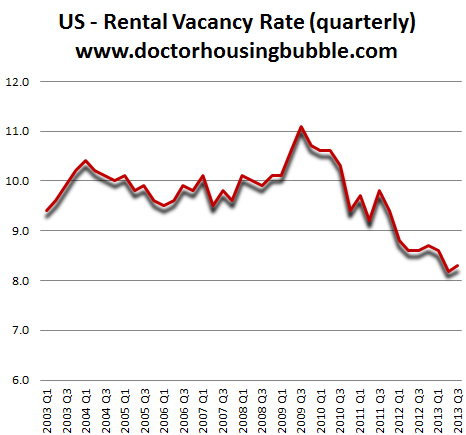 Part of the very hot housing market stems from lack of supply. The rental vacancy rate is at decade lows. So rents have been pushed up. Yet there is a ceiling as to how much this can go up. Investors are already finding it tougher to get solid cap rates on their investments. Also, many of the new permits issued for new housing have gone to multi-unit developments which should ease some of the pressure later on.
Homeownership rates decline however
This would be great if homeownership was increasing so more households could enjoy in the spoils of this banking policy. Yet homeownership is clearly moving in one direction: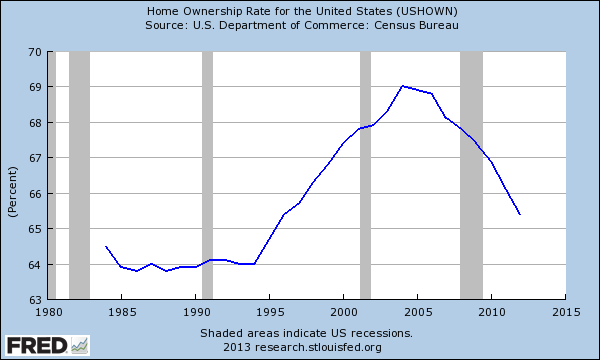 The homeownership rate in the US is heading back to where it was 20 years ago. The big difference in this drop is that over the last few years many single family homes have been put into the "investor" category.
I'm not sure why people are so doubtful about this even today. Some analysts are so wedded to the "housing is moving up sustainably with investors only being a tiny portion" meme that they don't even bother gathering data. Heck, even the NAR acknowledges the massive amount of investor buying:

Last month 33 percent of all existing home sales went to "all-cash" sales. 33 percent across the country! That is a big freaking deal and a massive part of the market. Since Americans don't have too much in terms of savings, these are not your typical first-time home buyers.
Then we have states like California where the homeownership rate is approaching 50 percent: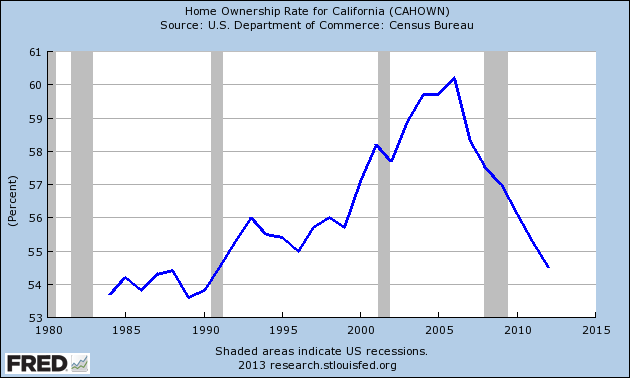 Cash sales are dramatic in the state. In the Bay Area, 32 percent of all sales earlier in the year went to "all-cash" buyers. Take a look at home prices there and ask yourself if even a young working professional couple can afford a home, let alone pay for a place with non-traditional financing. The bottom line is that the costs of QE and freezing accounting standards do have an impact on the larger economy. The working and middle class in the US are taking it on the chin for those that can play the easy money financing game. Yet make no mistake, this is no free market and housing has only become even more subsidized. You would think with home prices rising so quickly that most Americans would be jumping up and down but too bad the costs are being siphoned from those least likely to afford this financial magic. The current meme is that you can't go wrong with buying a home especially right now.

You'll Never Be On the Inside!
So, join Outsider Club today for FREE! You'll learn how to take control of your finances, manage your own investments, and beat "the system" on your own terms. Become a member today, and get our latest FREE report: "Three Big Profit Opportunities in Solar"!
We never spam! View our Privacy Policy
After getting your report, you'll begin receiving the Outsider Club e-Letter, delivered to your inbox daily.