The Debts of Christmas Past
Plus, the top trends of 2022 and beyond...
Posted December 27, 2021
---
Dear Outsider,
I hope you had a wonderful Christmas break. I know it was much needed.
Hopefully you didn't fall into the trap so many Americans do this time of year: overspending on Christmas presents.
Or, even worse, going into debt to buy gifts.
The National Retail Federation survey found that this holiday season, consumers planned to spend just shy of $1,000 on gifts and other items.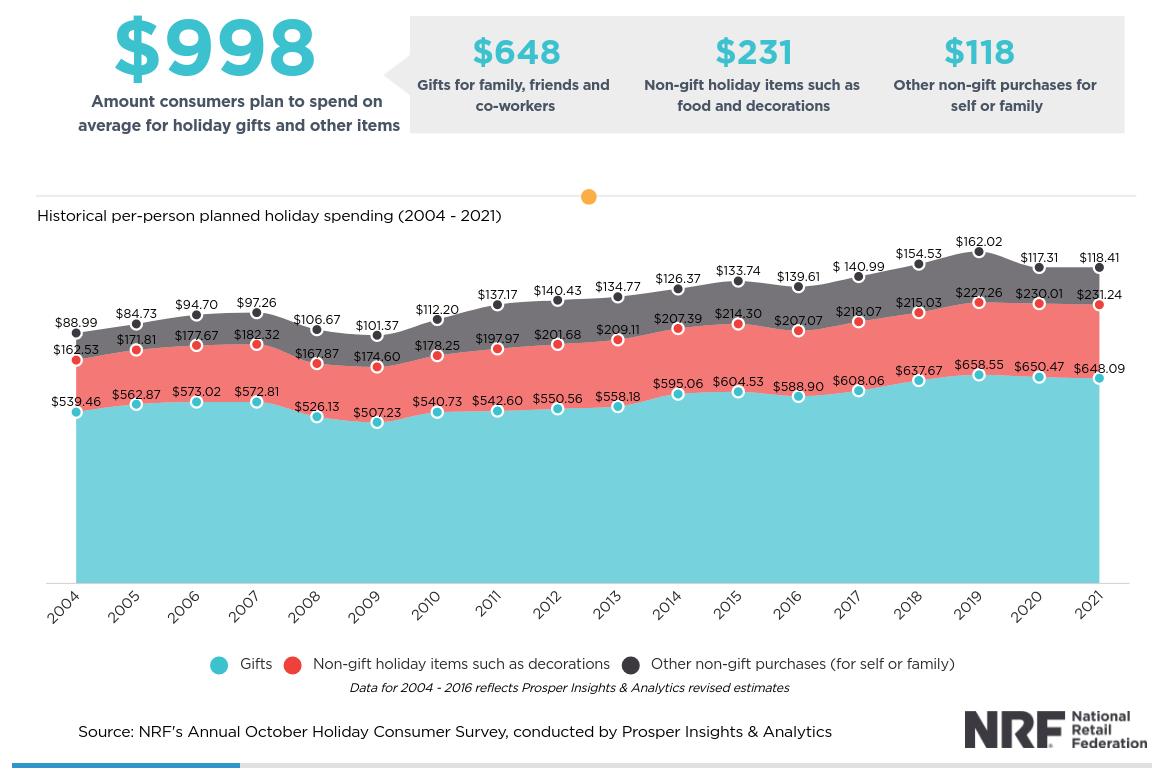 That's okay if you have the spare cash, but most people will put this $1,000 expense on a credit card, and that's where the real trouble starts.
You see, if you put $1,000 on a credit card with a 19% interest rate — the average rate in the U.S. — and pay $25 a month in minimum payments, it'll take you a little over five years to pay it off.
And you'll tack on an extra $597 in interest!
That's no way to spread Christmas cheer.
So don't let the ghosts of old debts come back to haunt you. Keep a budget, and remember that going into debt to buy presents is never cool.
2022 Trends
A record number of people were scammed this year to the tune of more than $25 billion worldwide due to payment fraud.
My first prediction for the new year is that decentralized finance (DeFi) will take over our antiquated and unsecure payments systems. We'll see banks, third-party brokers, and Big Tech companies slowly lose power while the internet transitions to Web 3.0, a decentralized version on the internet.
As the government prints more funny money and the Fed raises rates, cryptocurrency will remain a viable hedge against inflation, but the use of blockchain for online payments, mortgage underwriting, and investing will be the real winner.
Second, as humans long more and more for social interaction, we'll see new COVID treatments aside from vaccines.
The virus will produce countless mutations, and the current vaccines will become less effective, opening the door for broader, symptom-based treatments.
I don't know about you, but I hadn't seen most of my extended family in more than a year.
As I interacted with people face-to-face, it really hit me...
We can lock ourselves away only for so long until our true nature comes out. We need human interaction to live.
We're social animals, and we literally can't survive if we're secluded from each other.
And, no, a Zoom call won't suffice. In fact, it might make things worse.
We saw the destruction that Facebook and other forms of social media brought to millions of users this year, increasing anxiety and depression among children and teens.
You'll Never Be On The Inside!
So join Outsider Club today for FREE. You'll learn how to take control of your finances, manage your own investments, and beat "the system" on your own terms. Become a member today, and get our latest free report: "Three Ways to Beat Inflation."
After getting your report, you'll begin receiving the Outsider Club e-Letter, delivered to your inbox daily.
My third prediction is that social media sites will come with a surgeon general's warning, something an old colleague of mine has been pounding the table about for years.
Depression and other mental health issues will continue to rise as long as we're living in an Orwellian dystopia.
Along those lines, my final prediction is we'll see FDA-approved health software companies capitalizing on this mess by offering app-based therapies for mental health and substance-abuse disorders.
More than 800,000 Americans have now died from the virus, and our hearts go out to any and all affected.
We can take a page from the ancient Stoics to help us make sense of these tough times. Roman emperor Marcus Aurelius, surrounded by wars and death, was known for remaining calm under pressure. He famously wrote, "If you are distressed by any external thing, it is not this thing which disturbs you, but your own judgment about it. And it is in your power to wipe out that judgment now."
For all the lockdowns, mask mandates, and suffering, it's our responsibility to logically and strategically set ourselves up for success — something we've been doing with our portfolios here at Outsider Club all year.
2021 Highlights
We can't look back at 2021 without talking about crypto, meme stocks, and hedges.
I still maintain that crypto by itself isn't worth anything; it's the underlying blockchain technology that's valuable.
But you never want to bet against a hot commodity.
So I found a few back-door ways to play the trend in 2021, including the Grayscale Bitcoin Trust (OTC: GBTC), the Grayscale Ethereum Trust (OTC: ETHE), and Everything Blockchain (OTC: OBTX), producing returns of 82%, 125%, and 170%, respectively.
I was very clear in my stance that Coinbase (NASDAQ: COIN) is a corrupt company. Its platform screwed millions of people out of profits multiple times in 2021 when it couldn't handle the trading volume. And whenever a new crypto gets listed on the platform, its value seems to magically jump. Seems like a bit of a scam...
In June, I layed out my argument against the company, saying it was overvalued when trading at $239. It dropped 7% two days later.
Speaking of meme stocks, on May 31, I wrote about another potential short squeeze on AMC (NYSE: AMC) when it was trading at $26.12. It shot up 140% in two days.
A tactic that helped me block out the news cycle and pick stocks was following the insiders.
One of the very first trades using this system that I'm particularly proud of is my long call on Blue Apron (NYSE: APRN) in September when it was trading at $5.04. It shot up 125% by the end of November.
I found another trade using my system on the EV maker Canoo (NYSE: GOEV) when it was trading around $9.08, and it went on to rise 46% in less than a month.
For hedging your portfolio, don't forget to watch the ProShares UltraDow30 (NYSE: DXD), as you can use it as insurance against a market drop. The DXD is an inverse-leveraged exchange-traded fund that moves two times the inverse of the Dow. So if the Dow moves down 2%, the DXD moves up 4%.
Keep these trends in mind as we move into the new year, and we'll be sure to keep you updated on any new research for you to jump on.
To your wealth,
Alexander Boulden
Editor, Outsider Club
After Alex's passion for economics and investing drew him to one of the largest financial publishers in the world, where he rubbed elbows with former Chicago Board Options Exchange floor traders, Wall Street hedge fund managers, and International Monetary Fund analysts, he decided to take up the pen and guide others through this new age of investing. Check out his editor's page here.
You'll Never Be On the Inside!
So, join Outsider Club today for FREE! You'll learn how to take control of your finances, manage your own investments, and beat "the system" on your own terms. Become a member today, and get our latest FREE report: "Three Big Profit Opportunities in Solar"!
We never spam! View our Privacy Policy
After getting your report, you'll begin receiving the Outsider Club e-Letter, delivered to your inbox daily.